The Prophet (SAW) said
"Allah will not give mercy to anyone, except those who give mercy to other creatures" ( Abu Daud & Tirmidhi)
Ownership of Dogs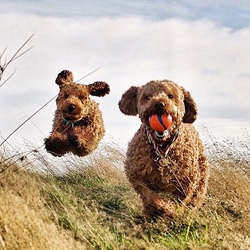 Subhanallah, dogs are one of the many wonderful creations of Allah (SWT). Their numerous unique characteristics are truly breathtaking and awe-inspiring. They can provide constant, loyal companionship and comfort, maintain a sense of security with their excellent guarding capacity, and fulfill important jobs such as sniffing out threats or in police or farm work. However, if you are a new Muslim, you may be unaware of Islamic rulings about ownership of dogs or how to handle interactions with dogs. I will outline some of these circumstances below.
Cleanliness
We are taught by the Prophet (SAW) that should the saliva of a dog touch our skin/clothing, as Muslims it makes us unfit for prayer without first washing 7 times; this is rather impractical for observant Muslims. The reasoning behind this ruling is not made entirely clear. We can
surmise
from the fact that dogs do not have sweat glands, their heat is released through the act of panting. And just as in human perspiration, impurities are excreted from the body in that process, rendering their saliva unclean. But it's important to remember that Islam does not enjoin anything but that which is good for people, and it does not forbid for them anything but that which is harmful to them. Allah SWT knows best what is good and bad for us.
Under What Circumstances Can I Keep a Dog?
Only in some cases is it permitted to keep dogs. Muslims
are
permitted to keep dogs only under the following conditions: for hunting, guarding livestock, or guarding crops. We look to the following Hadith for this information, narrated by Abu Hurayrah (RA) who noted the Messenger of Allah (SAW) said: "Whoever keeps a dog, a qiraat from his good deeds will be deducted every day, except a dog for farming or herding livestock," Muslim (2978). Now, while the value of a qiraat is not clear, it can be inferred that to not lose the benefit of its reward is desirable.
There are several scholarly opinions on keeping a dog to guard one's
home
; the correct view is that it
is
permissible to keep a dog to guard one's home. In a hadith narrated by 'Ali ibn Abi Taalib (RA), the Prophet (SAW) said: "The angels do not enter a house in which there is a dog or an image," Muslim (2943). This is sufficient evidence to the observant Muslim, if one wishes to gain the favor and rewards of Allah SWT, that one should not keep a dog
inside
one's home. For more information on this topic see outside and read more on this subject .
---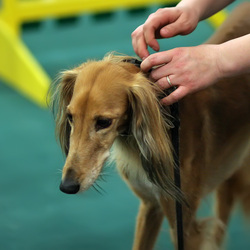 What About Touching a Dog?

I have personally encountered some Muslims who vehemently oppose canines. Even touching them! Maybe you have friends and family who have them or they are just a common neighborhood companion. Considering that dogs are a favored pet in the west, the "touching" issue may come up for you. Basically: Of course you can touch a dog! The Prophet Mohammad SAW said "Kindness is a mark of faith, and whoever is not kind has no faith" (Muslim). Personally I think of kindness not just to humans but also animals as well. I know many people who have pets who are as a member of their family. It would be impolite, and unkind in my opinion, to shun a family's pet for unsubstantiated faith-based fears. Here's the Islamic ruling on touching a dog:

---
If you touch it when it is not wet, then your hand does not become impure, but if you touch it when it is wet (or when your hand is wet), this means that the hand becomes impure, according to the opinion of many scholars, and the hand must be washed seven times, one of which should be with earth. ()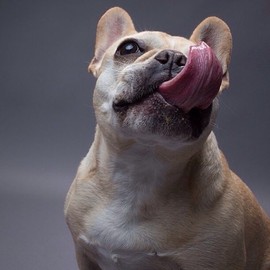 Treatment of Dogs (and all Animals)
Some uninformed and foolish Muslims use the rulings mentioned above here as a pretense for unfair treatment of dogs; they should have fear in Allah SWT and the Judgement Day. As Muslims, we follow the words and deeds of our beloved Prophet (SAW), who protected all animals and encouraged all his followers to be responsible in the way they treated them.
Here are some selected Hadith to illustrate the great amount of respect that the Prophet (SAW) had for animals:
There is a reward for helping any living creature.' (Bukhari and Muslim)




'It is a great sin for man to imprison those animals which are in His power.' (Muslim)



'The worst of shepherds is the ungentle, who causes the beasts to crush or bruise one another.' (Muslim)
'You will not have secure faith until you love one another and have mercy on those who live upon the earth.' (Bukhari, Muslim, and Abu Dawud)
'There is no man who kills a sparrow or anything beyond that, without its deserving it, but God will ask him about it.' (Ahmad and al-Nasai)
'The grievous things are: shirk (polytheism); disobedience to parents; the killing of breathing beings.' (Bukhari and Muslim)
Hadith narrated by Abdullah bin 'Amru noted that the Prophet (SAW) said "Whoever is kind to the creatures of God, is kind to himself."
Living in the West, I have seen a lot of Muslims who vehemently object to even
petting
a dog. While I do understand their tendency to err on the side of caution (understanding that they believe it's better to just avoid dogs altogether so as not to do something haram), as you read above,
it's completely permissible
! Also keep in mind that a severe reaction could just be giving non-Muslims another absurd reason to dislike Muslims (because let's face it, they already found many other reasons, justifiable or not). Really,
petting a dog is such a simple act of kindness.
We must not be so extreme in our views and to give non-Muslims the impression that we are uncaring or that we have an unkind disposition, because this is untrue for a true Muslim. Most dog and pet owners see their pet as a member of their family; if you show disdain for their family member, you have shown ill-manners which is not permitted in Islam, where we must always display good manners. I think ultimately most converts would agree we hope that our non-Muslim families, friends and acquaintances will learn about Islam and accept it, and displaying an appropriate attitude on this matter will go a long way towards, at least, people being accepting of Muslims, and being seen as reasonable.
It's worth noting a well-known hadith where the Prophet (SAW) remarked that "A prostitute was forgiven by Allah, because, passing by a panting dog near a well and seeing that the dog was about to die of thirst, she took off her shoe, and tying it with her head-cover she drew out some water for it. So, Allah forgave her because of that," (Sahih al-Bukhari, 4/538). Subhanallah!
Allah (SWT) knows best about all matters.
See more
Practices
of Muslims
---