Muslim Holidays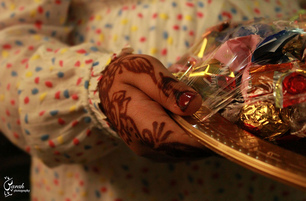 Muslims have two holidays which occur at the same time each year in the lunar calendar, but vary from year-to-year in the Gregorian calendar (solar calendar). Muslims emphasize these two main holidays. Also important to note is that they do not celebrate other holidays such as Christmas, Easter, Halloween or Valentine's Day, or anything else which goes against the principles of Islam. Both of the Muslim holidays are commonly referred to as Eid; the first holiday being Eid al-Fitr (following the end of
Ramadan
) and the second holiday is Eid al-Adha, which starts on the 10th day of the last month of the lunar Islamic calendar.
Eid al-Fitr
This holiday starts at the end of the month of fasting (Ramadan) and lasts for three days. During Eid al-Fitr, food, gifts or money is donated to the poor, called
zakat
al-Fitr. Muslims usually attend Eid prayers in congregation at the mosque in the morning. After prayer, Muslims spend time feasting and visiting with friends and relatives. Some communities organize special fairs and amusements for children. It is typical to wear new clothes on Eid according to sunnah, and parents commonly give gifts or money to children. The greeting Muslims give on Eid is "Eid Mubarak" or "Eid Sa'id". This is joyous holiday after a month long of fasting!
---
Upcoming Holidays

Eid al-Fitr
2017: June 25th

Eid Al Adha
2017: September 1st


Eid Al-Adha

This holiday is the Festival of Sacrifice. It commemorates the Prophet Ibrahim's (AS) willingness to sacrifice his beloved son Isma'il following the command of Allah SWT. Prophet Ibrahim (AS) was about to carry out the command of Allah but Allah SWT replaced his son with a ram at the last moment before sacrifice. Our prophet Muhammad SAW taught us to recognize Prophet Ibrahim's remarkable show of faith by celebrating Eid al-Adha. It also coincides with the

hajj

activities in Mecca, which commence once yearly. It is traditional to slaughter a lamb, goat or similar, and eat from it as well as donate some of its meat. Also on this holiday Muslims, attend prayer, gather, feast, and exchange gifts.

******

As far as holidays Muslims celebrate, these two above are it! (

Can Muslims celebrate birthdays?

) Of course, as mentioned earlier, Christmas and Easter are holidays Muslims do not participate celebrating in for obvious reasons. Because of its connection with and association with pagan beliefs, Halloween is also a no-go. Valentine's Day and St. Patrick's Day (honoring/worship of saints) similarly should be avoided, as should any other celebration which betrays the fundamental beliefs in Islam. We really need to fear Allah SWT in this, as such practices are forms of

shirk (please see NME link for more info)

, the worst sin in Islam.
More info about Eid holidays and other goodies at 2eids.com

Eidway -selling Eid Decorations!
Downloads
***Teachers, parents and kids:
Please see our
Islam Just for Kids
page to get craft resources for these celebrations.
| | |
| --- | --- |
| Eid Al-Adha Power Point presentation-- I created this when my son's 2nd grade teacher invited me to share about our holiday with his class! It would be ideal to share with a multicultural minded teacher or school to include with a holiday unit of study, perhaps. You could adapt it as necessary for age appropriateness. | |
---
| | |
| --- | --- |
| Ramadan and Eid al-Fitr Power Point presentation-- this one is similar to the one above and its description. | |
---
| | |
| --- | --- |
| Islamic Holidays - This Power Point presentation combines Ramadan, Eid al- Fitr and Eid al-Adha. This (as well as the others above) is for low to middle elementary students. | |
---
| | |
| --- | --- |
| Eid Greeting Cards (I do not own these) | |
---
Eid Holiday Acknowledgement in Schools


Do you have children in public or

private (non-Islamic) schools?

Please watch the informative video (right) and follow this link to

Project: Eid Awareness

, which is an ambitious and exciting campaign whose aim to bring about

awareness in schools for Eid holidays.

This idea is so vital to Muslim youth in validating their values and beliefs, but equally important is that it spreads knowledge and understanding to non-Muslims.

This website

offers

FREE banners for schools

to post and provides an informational flier for teachers to share with their classes.