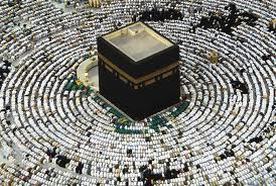 The Prophet SAW said,
"An accepted hajj has no less a reward than Paradise," reported by Abu Hurayrah (RA)


Hajj (Pilgrimage)
Hajj refers to pilgrimage to the house of Allah SWT, which we know as the Kab'ah located in the city of Mecca, Saudi Arabia (see Google Map below). Hajj is the fifth pillar of Islam, which requires all Muslims to make this pilgrimage at least once in his life as long as he is financially able.
Hajj commences during the second week of the 12th lunar (Islamic month, Dhul Hijjah) month. There are various rites performed during this pilgrimage (see more details below) and a strict code of behavior is followed during one's state of purity called
ihram
.
Hajj has been prescribed for Muslims in the following verse from Qur'an which states:
"Wherein are plain memorials (of Allah's guidance); the place where Abraham stood up to pray; and whosoever enters it is safe. And pilgrimage to the House is a duty unto Allah for mankind, for him who
can afford it. As for him who disbelieves, (let him know that) lo! Allah is Independent of (all) creatures,"
In Hadith, Abu Hurayrah (RA) reported that the Prophet (SAW) said, " 'Umrah is an expiation for the time between it and the previous 'Umrah, and an accepted Hajj has no less a reward than Paradise," (al-Bukhari, 1683; Muslim, 1349).
(Follow this link for more information about
Umrah
.)
To the believer, an accepted
Hajj
means that:
The pilgrimage must be paid for with halal money
One should keep away from evil, sin and unjust disputes during Hajj.
One should observe all of the rituals according to the Sunnah.
One should not show off by doing Hajj; it should be purely and sincerely for the sake of Allah (SWT).
One should not follow it with acts of disobedience and sin.

The process to arrange for attending hajj has its procedures and requirements like anything; something important to note for
converts to Islam
is that you will need to present an Islamic certificate as part of the application process. This would be a document notarized by an Islamic center confirming your shahada embracing Islam, dated, with witnesses and such, possibly including a photo for identification. Personally, when I first converted, I didn't receive any document like this, but I didn't ask. It wasn't until many years later after embracing Islam that I sought out this document of proof. It's definitely handy to have. I trust that any Islamic Center would oblige the request for one.
Men should keep their head uncovered at all times; Women should keep their heads covered
Do not shave, cut your hair, clip your nails, use perfume, or wear sewn clothes (men) of any kind

Women are allowed to undertake Ihram in any dress they wish which fulfills the Islamic conditions of public dress, regardless of the color.

Do not perform marriage or get married yourself
Do not kill an animal of any kind for any reason, unless it poses a danger to you and to the others.
Do not enter into conjugal relations with your spouse. Avoid suggestive and provocative talk or gestures and remain focused on Hajj
Women's hands and face should be uncovered in Ihram. Their heads should be covered.
Rituals

Please follow which are performed during hajj.

Recitations

Among other du'aa which the pilgrim should recite in various points during hajj, the following words are recited by pilgrims throughout hajj (translated meaning below; heard in video, right):

Labbayka Allaahumma labbayk, labbayka laa shareeka laka labbayk. Inna al-hamd wa'l-ni'mata laka wa'l-mulk, laa shareeka lak

(Here I am, O Allah, here I am. Here I am, You have no partner, here I am. Verily all praise and blessings are Yours, and all sovereignty, You have no partner),'" narrated by Muslim.

---
Eid Al-Adha coincides with hajj and is a culmination of the Hajj activities. To learn more about the days leading up to Eid Al-Adha, which are blessed days for Muslims, click here.
Hajj (and
Umrah
) is a deeply spiritual and renewing journey. May Allah SWT make it possible for all the Muslims to make this journey to fulfill our obligations, ameen!
---Map of Al-Masjid Al-Haram in the holy city of Mecca---