| | | |
| --- | --- | --- |
| | The Prophet (SAW) said, " 'Umrah is an expiation for the time between it and the previous 'Umrah, and an accepted hajj has no less a reward than Paradise," Bukhari, 1683; Muslim, 1349. | |
What is Umrah?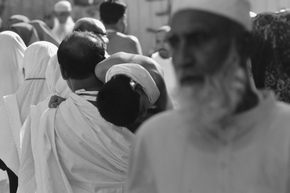 Umrah is sometimes called the lesser or mini pilgrimage. This entails a visit to the holy Kab'ah, Masjid Al Haram, just as in Hajj, but differs in that Umrah it is not obligatory, can be completed during any time of year, and doesn't have the exact same rituals as Hajj.
The required rites of Umrah include
1.) entering into a state of Ihram,
2.) performing Tawaf (circulating) of the Kab'ah,
3.) walking between Al-Safa and Al-Marwah (which are two small hills in the distance from the kabah, yet enclosed within Masjid Al-Haram), and
4.) cutting one's hair (shaving the head for men and clipping a lock of hair for women).
Allah SWT says in the Holy Qur'an:
"—fulfill Hajj and Umrah to Allah,"
Qur'an 2:196
Here are some hadith of our Prophet Muhammad (SAW), remarking on merits of performing Umrah:
"The people who come to perform Hajj or Umrah are the guests of Allah because they visit His House on His Call; therefore, Allah grants them what they ask for," reported by Ibn Majah.
"An Umrah to another Umrah will be redemption of sins for whatever (minor) occurs between them," reported by Abu Hurairah (RA), Bukhari, Muslim.
"Follow up the Hajj and Umrah, because they certainly remove poverty and sins as fire separates the impurities from iron, gold and silver," reported by Ibne Mas'ood (RA), Tirmidhi.
---
| | |
| --- | --- |
| This document here gives a comprehensive guide of Umrah rites and descriptions. There are also many great phone apps available which do a nice job of describing how it is performed, do's and don'ts. | |