The Prophet (SAW) said,
"Every deen has an innate character.
The character of Islam is modesty,"
Al-Muwatta – Hadith

Hijab and Modesty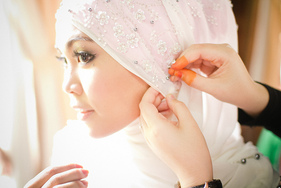 Converts to Islam, in particular the Muslim woman, must make an effort to be modest with regards to dress. We are commanded to not put ourselves on display for others to see in the following verses:
"O Prophet! Tell your wives and your daughters and the women of the believers to draw their cloaks (veils) all over their bodies. That will be better, that they should be known (as free respectable women) so as not to be annoyed. And Allah is Ever Oft-Forgiving, Most Merciful,"
Qur'an 33:59
"And tell the believing women to lower their gaze (from looking at forbidden things), and protect their private parts (from illegal sexual acts) and not to show off their adornment except only that which is apparent, and to draw their outer garment over their bosoms,"
Qur'an 24:31
Additionally, in one Hadith, Aisha (RA) reported that Asmaa, the daughter of Abu Bakr (RA) came to the Messenger of Allah SAW while wearing thin clothing. He approached her and said: 'O Asma! When a girl reaches the menstrual age, it is not proper that anything should remain exposed except this and this.' He pointed to the face and hands." [Abu Dawud]
From these evidences, we gather a great deal of information about appropriate dress for women. The following guidelines are a summation of these remarks and others in regards to Islamic dress for the Muslima:
Clothing must cover the entire body (including her hair and neck), with the exception of the face and the hands.
The clothing should not be form-fitting, sheer or so eye-catching as to attract undue attention or reveal the shape of the body.
The clothing should not be similar to male clothing or to the distinctive clothing worn by people of other faiths.
Clothing must not suggest fame or status.
Making the decision to wear hijab (a scarf covering the hair) is a deeply personal decision for Muslim women in the west.
See How to Tie a Hijab.
A conscious woman knows that sometimes a judgment about her is formed based on the sight of her scarf alone. There is also the awkwardness of social situations once she commits to wear hijab. "What will people think/say?"; "Will I be treated any different?"; "Will I get fired from my job?": These and many other questions will enter into the decision-making process, and they do deserve exploration so that you feel prepared. However, we do not have the option to wear hijab or not: it is clear based on evidences that we must wear it, but it is your
choice
. I will say also that the pleasure of Allah is what we need to remind ourselves of to make this step easier. Remember, we gain rewards for all the good deeds were do in our life. Allah (SWT) told us in Qur'an if you give something up for the sake of Allah, He will replace it with something better.
See NME's Web Links page for a list of Islamic Clothing
available online
See
FAQ's
See more

Practices

of Muslims

---
| | |
| --- | --- |
| | Mashaallah! Video (Left) with an AWESOME rebuttal for those who say the woman in hijab has lost her freedom. |