Narrated by Abu Huraira (RA): I heard Allah's
Apostle (SAW) saying, "If there was a river at the door of anyone of you and he took a bath in it five times a day would you notice any dirt on him?" They said, "Not a trace of dirt would be left." The Prophet (SAW) added, "That is the example of the five prayers with which Allah blots out (annuls) evil deeds," (Bukhari).
---
Purifications: What is Wudoo and Ghusl?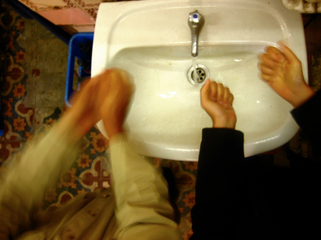 For many new Muslims, the concept of ablution is a new one. For Christians, there is no necessity in the practicing of one's faith to perform any kind of ablutions in order to be fit for prayer (none that I am aware of, at least). For Orthodox Jews, there are such concepts, and they can have some vague similarities to the Islamic ablutions which Muslims refer to as wudoo and ghusl.
Wudoo
Basically wudoo is a pure state of cleanliness. For Muslims, wudoo (as well as ghusl) is/are refreshment for the heart and body. It is a state in which it is preferred to be in at any and all times (as much as possible anyhow), but essential for performing the required 5 daily prayers or any formal or Sunnah prayer. It is also preferred in that Allah SWT is more likely to accept our
du'aa
if we are in a state of wudoo when making duaa. Wudoo is completed the same regardless of gender.
In Qur'an 5:6, we read the evidence for the necessity of wudoo
:
---
| | |
| --- | --- |
| | "O you who believe! When you intend to offer As-Salaah (the prayer), wash your faces and your hands (forearms) up to the elbows, rub (by passing wet hands over) your heads, and (wash) your feet up to the ankles. If you are in a state of Janaaba (i.e. after a sexual discharge), purify yourselves (bathe your whole body). But if you are ill or on a journey, or any of you comes after answering the call of nature, or you have been in contact with women (i.e. sexual intercourse), and you find no water, then perform Tayammum with clean earth and rub therewith your faces and hands. Allaah does not want to place you in difficulty, but He wants to purify you, and to complete His Favor to you that you may be thankful." |
| | |
| --- | --- |
| ***Printable guide to help you remember the wudoo sequence! ------> Post it near the washing facilities...perfect for new Muslims or children! | |

Wudoo is completed by the following steps

Making intention in one's heart to complete wudoo; say "Bismillah"

Wash your hands 3X

Wash your mouth 3X (using right hand to bring water to mouth)

Wash your nose 3X (using your right hand to bring water to nose, using the left to assist in expelling it); bring water in nostrils

Wash your face 3X

Wash your arms 3X, up to elbow (starting with the right one)

Pass water over your hair, certain to touch water to the roots, one time

Wash ears once

Wash feet 3X up to ankle (starting with the right one)

Source
Ghusl
This purification is similar to wudoo, except that one adds a few steps to the process and completes them following certain circumstances. Basically ghusl is a full bath, with a set sequence of washing. This purification is necessary, again, to be fit for prayer. We look to the Sunnah as an evidence for its necessity.

Completion of ghusl is necessary:

1. Following completion of the menstruation cycle

2. Following cessation of the post-partum bleeding following childbirth

3. Following sexual intercourse

4. Following emission of semen

, even if it is not through intercourse

5. When an unbeliever becomes a believer (converts to Islam)

Source
One more hadith to illustrate the importance of not only washing, but washing correctly:

| | | |
| --- | --- | --- |
| | Narrated by 'Abdullah bin 'Amr (RA): Once the Prophet (SAW) remained behind us in a journey. He joined us while we were performing ablution for the prayer which was over-due. We were just passing wet hands over our feet (and not washing them properly) so the Prophet (SAW) addressed us in a loud voice and said twice or thrice: "Save your heels from the fire," (Bukhari) | |

---
Interesting Posts: