The Prophet (SAW) said,
"He who wishes to enter paradise
at the best gate, must
please his father and mother,"
(Bukhari & Muslim)

How to Share Islam with your Non-Muslim Family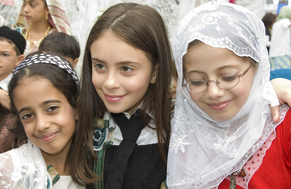 One of the most difficult things about
converting to Islam
can be sharing it with your non-Muslim family. The fact that Islam is widely misunderstood and often wrongfully associated with many unsavory characteristics helps to perpetuate its misconceptions. Once you reveal your embracing of Islam, there can be any number of reactions from your family members, from total support to total rejection or somewhere in the middle.
The media has a huge role in shaping the attitudes and beliefs we all hold, and Islam is no exception. Now that you have overcome that obstacle and found the true Islam on your own, you probably want to share it with your family so that they can make sense of your conversion. It is difficult to find the right approach to share it.
I suggest a book which could supplement the conversation(s) you have with loved ones about your conversion. It is titled "Towards Understanding Islam," by Abul A'la Maududi. This book was the first book I read about Islam and its content was pivotal in changing my beliefs to be guided by Islam. It was totally new information for me and made everything crystal clear as I read it. Before this time, there were always nagging questions in the back of my mind that kept me from fully embracing my previous faith. This book made me see that those questions were valid. Perhaps you can secure a copy to offer your family members who you want to understand your conversion, or maybe even embrace it themselves, inshallah. For more information about how to tell you family about your conversion,
click here
.
It's going to make the transition into Islam much easier for you if your family is supportive, particularly because if you have just recently converted to Islam, you more than likely don't know too many Muslims and are not part of an Islamic community. This brings me to another valid point which is the fact that maybe you do already know some Muslims. You should be asking yourself if
their
iman (faith) in Islam is strong enough to help carry you, encourage you, and set the right examples for acceptable Islamic behavior. It is with these ideas that I encourage you to seek out all the information you can about Islam and to continually build your understanding and faith. This website it meant to provide you with all those resources that you will need to meet that goal.
Back to
How To
Back to FAQ's
---
Interesting Posts: