The Life of the Prophet Muhammad (SAW)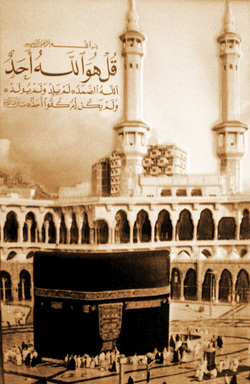 Pre-Islam in Mecca
To many in modern times, it's difficult to imagine Mecca as once being a sanctuary and place of pilgrimage for polytheism. This land and its people has now become synonymous with devout, committed, and faithful Muslims; it is the holiest Islamic city. However, in the days predating Islam, what many Muslims refer to as the Days of Ignorance, idol-worship was the very lifeblood of the city of Mecca. Pagan pilgrims eagerly flocked to the Kabaa (cube shaped building) in Mecca as a place of pilgrimage to worship their many and various idols in the form of statues. The vast majority of Meccans held the same beliefs and it was a huge part of the Meccan economy to cater to the pilgrims. Therefore, any threat to the very core of this pagan belief was staunchly, and in many cases, ruthlessly met with anger and fury by Meccan political leaders, and their tribes and clans.
Mecca was so much considered THE place to make pilgrimage that Abraha, a jealous Christian ruler of Yemen, built a temple to rival Meccan tourism. He hoped to lure away all the pilgrims and their wealth. A man of the Quraysh later traveled to Sanaa, entered the newly built temple and defiled it as a show of his distaste. Abraha was incensed and swore revenge. He marched an army of forty thousand men to Mecca, led by a white elephant. They held Mecca under siege, with Abraha's goal to destroy the Kabaa. The mission of the expedition was unsuccessful and is recounted in the Qur'an chapter 105, . This became known as the year of the elephant.
The Prophet's (SAW) Early Life
Prophet Muhammad was born in Mecca in the year of the elephant, 570 C.E.*(see
Footnote
) His father Abdullah had died before his birth from a sudden illness. His mother Aminah was heartbroken from his death, but delighted to welcome her infant. Before her son's birth, she had dreams that told her to name the boy Muhammad, which was a very uncommon name at the time. After his birth, Muhammad's grandfather Abdul Muttalib (the father of Abdullah), helped support Aminah and her son. It was common at the time for women to send their young children out in the Bedouin villages to be raised for their early years by wet nurses. It was thought that they would develop better health, language and other sought after qualities. Muhammad was raised by Halima and returned back to his mother around the age of 5. His mother died shortly thereafter from a sudden illness. He was then placed under the care of his grandfather Abdul Muttalib, who took tender care of Muhammad, only to die 2 years after. Following this second great loss in his life, he was raised thereafter by his father's brother, Abu Talib. Muhammad's life was hardly carefree; he tended to the flocks of his uncle and pulled his weight to help out his large adoptive family.
Early Adulthood
At the age of 25, Muhammad was employed by , a wealthy widower 15 years his senior, to manage a large caravan expedition to Syria. With a hefty value of merchandize under his care and supervision, Muhammad returned to Mecca having successfully completed his assignment. Khadijah sought the opinion of an observer of his transactions and affairs while on the voyage and was pleased and impressed to hear of his fairness, courtesy, and honesty in his business dealings; she sought his hand in marriage. Muhammad, who was at first surprised, eagerly accepted.
Their union was one of mutual respect and deep affection. Khadijah bore him 4 girls; his biological sons all died in infancy. By the year 610, all but Fatima (the Prophet's youngest daughter) were grown and married. Out of his desire to expand his family yet reluctance to marry a second, younger wife who could bear him more children, Muhammad bought a young slave boy (slavery was very common at that time) named Zayd ibn Harith; he immediately freed him and adopted him as his son.
Prophethood
It was common after his marriage for Muhammad to retreat for days at a time to a cave in Mount Hira, a few miles from Mecca. There he regularly sought solace and spiritual connection, praying to the All-Mighty.
It was on one of these retreats alone and isolated that the angel Jibril visited him bringing messages from Allah SWT. Jibril said to him, "Read!", though being illiterate, he replied that he could not. The angel took a hold of him and squeezed him as much as he could bear, and then said again, "Read!" The Prophet said again that he could not. The angel seized the Prophet again and squeezed him saying,
"Read! In the Name of Your Lord, Who has created (all that exists), has created a man from a clot (a piece of thick coagulated blood). Read! And your Lord is the Most Generous, Who has taught (the writing) by the pen, has taught man that which he knew not," :1-4 .
This was the first message Muhammad received from Allah SWT.
Muhammad returned to his wife Khadijah immediately, shaken and frightened, and declared, "Cover me!" She comforted him until he became calm and told her about his encounter with the angel.
Subsequently, Khadihjah visited her cousin Waraqa Ibn Naufal, who was old and blind and knew the Scriptures of the Jews and Christians, and is stated to have translated them into Arabic. When she told him of what she had heard from Muhammad, he cried out: "Holy! Holy! Verily, this is the Namus (The Holy Spirit) who came to Moses. He will be the prophet of his people. Tell him this and bid him to be brave at heart." When he later met with Muhammad in the street, Waraqa gave his unwaivering faith and trust in him, by stating, "I swear by Him in Whose hand Waraqa's life is, Allah has chosen you to be the prophet of this people. They will call you a liar, they will persecute you, they will banish you, and they will fight against you. Oh, that I could live to those days. I would fight for these." Truly, his words would ring true.
The years following the first revelation, with Islam in its infancy, were extremely difficult for those who placed their trust in the messenger of Allah and believed in One All-Mighty God. Those who converted to this new faith practiced in secrecy for years. If their beliefs were to be discovered, their very lives were at stake. Many early followers of Islam were murdered, tortured and endured many cruel hardships. Muhammad relied heavily on the support of his wife and daughter Fatimah.
In what became known as "The Boycott", the Prophet, his immediate family members, and the Ummah (its followers) were ostracized and forced out into the harsh desert surrounding Mecca, enduring exposure without shelter or much food for several years. They survived in part due to sympathetic Meccans, who disagreed with their cruel treatment and smuggled food and supplies to the exiled. Only during the truce months (when anyone was permitted to Mecca during the annual pilgrimage--of course a different sort of pilgrimage at that time!) was Muhammad and his followers allowed back in to Mecca; it was during one of these periods of truce that Muhammad was able to call attention to more and more people both far and wide the cruel treatment they were enduring. This shamed the ones forcing the exile, and they had no other choice but to relent; the boycott was over.
It was following this the Boycott that the Prophet's beloved wife (Islam's first follower) succumbed to ill-health due to the exposure. Khadijah had always been Muhammad's main source of comfort and relief from the rejection and hatred aimed at him due to his message. He had lost a loving companion and great source of support. Also within this year, his dear uncle Abu Talib, who had raised him and protected him from the hatred of the idolators, died. The Prophet was beside himself with grief and found his responsibilities difficult to bear.
The Night Journey
Coming Soon
Migration (Hijrah)
Coming Soon
---