"I leave behind me two things, the
Qur'an and my example, the Sunnah and if you follow these you will never go astray" -from the last sermon of Prophet Muhammad (SAW)


Sources of Evidence in Islam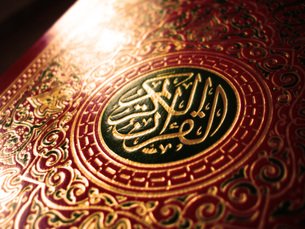 An important note regarding Islam and which clearly distinguishes it from other religions is the fact that all practices in Islam have sound evidences to prove its importance. There are two sources for these evidences: firstly, the Qur'an, which is the actual words of Allah (SWT), as given to the Messenger (SAW) by way of the angel Jibril; and the second source of evidence is the Hadith, which will be explained below.
The Qur'an has not been expressed using any human's words and it was written by no one but Allah (SWT). Not a single letter has been changed from its original revelation, which cannot be said of any other holy book. Allah (SWT) sent other books, such as the Injeel (Gospel/Bible) and the Tawraat (Torah), to mankind. As Muslims, we also believe in these books and their Divine revelation; however, the difference is that these books have been altered and, therefore, are not in their glorious state of perfection that they were when they were revealed by Allah (SWT). With these alterations, came the need for a pure and restored revelation, and also the need for a new prophet through whom Allah (SWT) would send His message.
The Qur'an was revealed in stages to Prophet Muhammad (SAW) and was committed to memory by its early followers. Shortly after the death of the Prophet (SAW), it was compiled into a tangible book, which is just as we know it today.
The second source of evidences we look to in Islam is Hadith, which are narrations concerning the words and deeds of the Prophet (SAW). We refer to this guidance as the Sunnah (habits or usual practice of the Prophet). The hadith are words and actions inspired by Allah (SWT) but are the Prophet's (SAW). They were written down after the death of the Prophet (SAW), with reference made to those who witnessed the actions or heard his words (Find a massive collection of
Hadith online
here). Further, the Qur'an reads:
"You have in the Messenger of Allah a beautiful pattern (of conduct) for anyone whose hope is in Allah and the Final Day, and who engages much in the praise of Allah," Qur'an 33:21
Therefore, we can gather from the very words of Allah (SWT) Himself in Qur'an (giving the strongest evidence possible and additional credibility to the Hadith) that a Muslim's behavior is best illustrated by the Prophet Muhammad (SAW) and we should strive to shape our own deeds based on his superb model.
---
Interesting Posts: