The Prophet (SAW) said, "The likeness of a person who has missed one salah (prayer) is as the likeness of one who has lost all of his family and wealth,"
(Nisai and Ahmad).
Prayer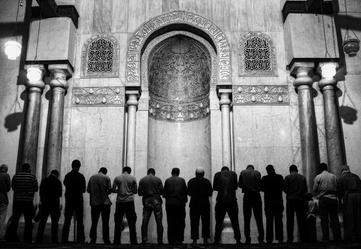 Only Allah the Most High is worthy of worship and to Him is due all praise. Prayer's main function is worship of our Creator, which is why Allah SWT created mankind. Regarding prayer, the
Qur'an 2:277
translates:
"Truly those who believe, and do deeds of righteousness, and perform As-Salat (prayer), and give Zakat (charity), they will have their reward with their Lord. On them shall be no fear, nor shall they grieve."
Five daily prayers at fixed times are required worship, and by the example of the Prophet SAW, there are numerous other times at which it is recommended to offer prayers (these are called Sunnah prayers, because it was the habit of RasulAllah SAW).
Prerequisite: Purity
Before praying, Muslims must make ablutions, or purifications, which we call
wudoo
. This cleanses the body from impurities and makes one fit for formal prayer. Please see the
purifications page for more details.
Learn how to pray--Click for printable instruction pages!
---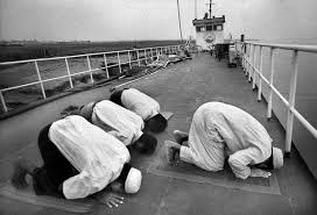 The Compulsory Prayers (Required)
Every Muslim is required to offer a minimum of five daily prayers to be offered at set times. Each prayer is essentially the same, but vary in the number of Ruk'ah (one cycle of standing, bowing and prostrations in prayer) offered. The prayers are:
1) Fajr-- at daybreak and before sunrise; 2 Ruk'ah
2) Dhuhr-- given at mid-day; 4 Ruk'ah
3) Asr--afternoon prayer; 4 Ruk'ah
4) Maghrib--given just after sunset, 3 Ruk'ah
5) Isha--given at the night time; 4 Ruk'ah
Qiblah
When Muslims pray, they face toward the
qiblah
, which is the direction of prayer. Geographically, Muslims are facing the Ka'bah when they face the qiblah. The
Ka'bah
is the black cube-shaped structure built by the Prophet Ibrahim (AS) and his son. It is located in the city of Mecca in what is now known as the Kingdom of Saudi Arabia. The Ka'bah is the focal point at which Muslims are commanded to direct their prayer. The qiblah is different for each point on the globe, although for the same general region it will be about the same directionally. The city of Mecca is unique in that it is only place on the globe that will have a vastly different qiblah; praying in congregation at
Masjid Al-Haram
is in a circular formation around the Ka'bah--see below right photo (
Click here to find the qiblah
for your location.)
---
Athan and Iqamah

Before each prayer, athan (the call to prayer) is recited. It is recited the same for each prayer except at fajr (at daybreak) some additional words are added meaning "prayer is better than sleep."

The iqamah (i-QA-ma), which is almost identical to athan, is recited again just before the prayer commences. The words are the same as the athan except with the addition of words which mean "Stand for prayer"; also this recitation is generally given quickly and in a monotone voice. Recitation of iqamah signals to the worshipers that they should stand in their prayer rows, straighten them, etc., the prayer will commence now.
Listen to a beautiful recitation of Athan---->


Hadith of the Prophet Muhammad (SAW) reported by Abu Huraira, relating to the Athan:


The Prophet (SAW) said "When the call to prayer is made, Satan runs back and breaks wind so as not to hear the call being made, and when the call is finished, he turns round. When Iqama is proclaimed, he turns his back, and when it is finished he turns round to distract a man, saying 'Remember such and such; remember such and such,' referring to something the man did not have in his mind, with the result that he does not know how much he has prayed," Sahih Muslim, Book 4, 756

Exemptions
Women should be aware that during menstruation and post-partum bleeding following childbirth she is excused from praying. Those prayers missed do not need to be made up later. Once the bleeding stops, a full bath (ghusl) is required before resuming formal prayer (
learn more and see how to make wudoo and ghusl
).
More Prayer Resources
---

Find your local prayer times:


Videos below are showing how to perform salat. The second one may be good for children.