"For Allah loves those who
turn to Him constantly and He loves those who keep themselves pure and clean..." Qur'an 2:222



Cleanliness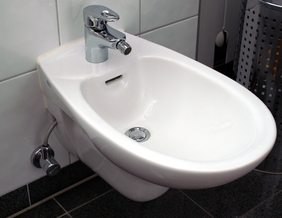 As a Muslim, one must be sure to take the utmost care in personal cleanliness. Cleanliness entails things such as regularly bathing, wearing clean clothing, and good hygiene in general, as well as cleanliness in heart and a clean, well-kept home.
In
Qur'an 9:108
, Allah says, "
And Allah loves those who make themselves clean and pure
." Regarding cleanliness, the Prophet (SAW) said,
"Cleanliness is half the faith (Emaan)."
[Sahih Muslim]
In the Restroom
The common American custom of using toilet paper to clean one's self after answering the call of nature is not enough to maintain Islamic cleanliness standard. To be frank, Muslims must use water to wash away impurities after urinating and defecating. The evidence for that is the hadith of Anas (RA) who said: "The Prophet (SAW) used to relieve himself, then another boy and I would bring a vessel of water and a short spear [to use as a sutrah for the prayer he was going to do after doing wudoo'] and he would cleanse himself with the water," Narrated by al-Bukhaari, 149; Muslim, 271. To this end, many Western Muslims either install a bidet (seen at right photo) to their existing toilet plumbing or they keep a watering can in the bathroom for the purpose of cleaning after answering the call of nature.
Why Most Americans Don't Own a Bidet

Click here
for a link to bidet plumbing products.
Ritual Purifications: Wudoo and Ghusl
Other forms of ablution Muslims must perform are what we call
wudoo
and
ghusl
, which are ritual purifications (performed a specific way using water; if no clean water is available, a dry ablution called tayamum uses sand or dust) necessary before offering salah. Wudoo must be made after passing any waste or wind and after deep sleep. For women, ghusl should be performed following completion of menstruation and also after completion of post-natal bleeding. Ghusl is also required after intercourse for both men and women, and also recommended on
Fridays
, as per the
sunnah
.
Follow link for more information and for how these purifications are performed
.
Siwak
Another way in which Muslims are encouraged to practice good hygiene is by using siwak (pronunciation: si-WAK; also referred to as
miswaak
). It is actually a twig
from the
Salvadora persica
tree, commonly called the arak tree or the toothbrush tree, as it is used for tooth cleaning. It is preferred to the alternative and modern toothbrush, and the Messenger (SAW) used it and encouraged the ummah to use it, particularly before offering prayers. Siwak has a long use in history, even pre-dating Islam and is well-known for its medical benefits. Aishah (RA) reported the Prophet SAW said "Siwak cleanses the mouth and pleases the Lord," (al-Bukhari, Ahmad and al-Nisa'i). The fact that the Prophet SAW mentioned this is notable; it has been studied in modern medical research that the siwak, "contains substances which purify and kill microbes, the most important of which are sulphur and sitosterol B (or β-sitosterol), as well as sodium," [1]. Actually, many common dental care practices have been found to be harmful; here is a practice (using siwak) that, subhannallah, Allah the Most High created and is natural. Allah knows best what is good for us.
You can sometimes find siwak in Middle eastern markets in the West, or on the internet such as
here
.


Link to an article
to learn the Sunnah of siwak usage.
---
References
:
[1] Published in the journal Oral Medicine and Dentistry, by the research of Dr. James Turner, Faculty of Medicine in the American University of Tennessee.
Source 1
Source 2
Interesting Posts: