Is it ok to celebrate Non-Muslim holidays with my family?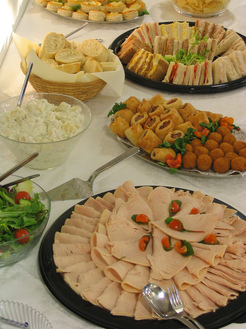 To be clear, "celebrating" may mean, of course, going to church
services or the like (which I could well guess most new Muslims would know that these activities wouldn't serve Islam), but also celebrating by way of festivities such as dinners, parties and get-togethers on the holiday or commemorating the holiday; gift exchanges could also be considered us such. Also at question is should a Muslim even congratulate non-Muslims on their holidays?
I remember when I first converted, it hardly crossed my mind that celebrating with my family/friends might be wrong; I saw it as a way to respect them (astaghfirallah). As I became more Islam conscious, I realized that my participation in their festivities was a way of implying that I approved of their rituals.
In Islam, we have five pillars which
generally
descend in order of importance, with the most important pillar being belief in one Allah. As part of this belief and as a practicing Muslim, we should all try to be very wary of and cautious to avoid
shirk
, knowingly or unknowingly. And as such, I personally fear Allah SWT too much to feel good participating in, or even congratulating others on their non-Muslim holidays. I recently read on another Islamic website about this subject which put it this way: "It is like congratulating someone for prostrating to the cross, or even worse than that. It is as great a sin as congratulating someone for drinking wine, or murdering someone, or having illicit sexual relations, and so on." It may sound foolish to equate giving good tidings or well wishes for another's holiday as a grave sin, but this is a valid point. And I take this subject very seriously and fear Allah SWT in this respect.
Admittedly, this subject can definitely be difficult for many new converts to Islam, especially if you are still living with you non-Muslim family! I think personally why it's so difficult is because, by my observation and experience (and I hope that this statement will not offend anyone of any faith), many non-Muslim holidays are not so much carried out with strict adherence to and/or rooted in rigid religious practices, rather they are in many cases traditional times for families to simply gather and feel a sense of family bonding in a shared tradition. Non-Muslims might feel that the Muslim convert in their family/life is maybe rejecting them in some way by not participating with them. This is of course not true; we converts to Islam love our families dearly and wish very much to still be able to have that family-bonding experience and connect with each other. It's just that we love Allah (SWT) and cannot and will not wish to associate ourselves with celebrations which are contrary to our belief in the first pillar of Islam: belief in one God.
The best advice I can offer to new converts on this subject is to:
Have a frank discussion with your family members explaining how your belief in one God prohibits you from sharing in traditions connected with non-Islamic holidays. I think most people will accept that as long as you don't neglect to keep the family bond strong by sharing special times on other occasions.
Have patience in this matter; pray to Allah (SWT) and ask Him to help you in these matters, and ask Allah (SWT) to guide your family to embrace Islam.
Remember to be thankful that Allah has chosen you to have the knowledge and gift of Islam, subhanallah, what a blessing!
Remember there is no obedience (as in to a parent's wishes) if it involves disobedience to Allah the Most-High; the pleasure of Allah is what all faithful Muslims seek, above one's parents wishes if they are contrary.
For more information on this matter
click here
.
Back to FAQ's
---
---