Etiquette of Handling Qur'an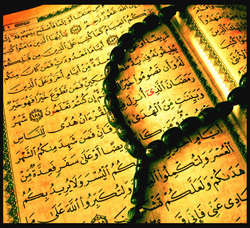 Muslims regard the Qur'an as a holy object containing the very words of Allah SWT, hence certain rules apply to interactions with it physically as a book as well as actual recitation of words from Qur'an.
Below is a quick reference so as to make you aware of how to handle Qur'an (sometimes called "
Mus-haf
") These rulings are according to the majority of scholars.
The Physical Qur'an (book)
:
Should be kept in a clean place
Must not enter a restroom or other unclean place (be very mindful of this if you routinely study Qur'an and therefore carry it with you publicly such as in a backpack!)
Do not put things on top of a Qur'an
Do not put a Qur'an on the floor

Listening to Qur'an
Muslims and Non-Muslims may listen to Qur'an in any state [of purity], but be mindful of where it is played (a clean place).
Reading Qur'an
Muslims and non-Muslims may read Qur'an (look at the words or say in one's heart) in any state (of purity), but one should not voice the [Arabic] words aloud if one is in a state of impurity (junub: a state of impurity due to sexual intercourse, etc. This state, called janaabah, must be removed by performing ghusl) and also should not touch the words. **Reading would not include touching the Mus-haf, but rather by means of a computer or the like.
Reciting Qur'an
It is permissible for one to recite Qur'an in a state of minor impurity (not having wudoo).
It is not permissible to recite Qur'an if one is junub because of the following hadith: 'Ali (RA) reported that the Prophet (SAW) came out from the toilet and recited something from the Qur'an. He said, "This is for the one who is not junub; but the one who is junub should not do this, not even one aayah." Nothing ever kept the Prophet (SAW) from reciting Qur'an except for janaabah (major impurity).
Women who are menstruating or post-natal bleeding are permitted to recite Qur'an aloud without physically touching the book. There is, however, some difference of opinion on this ruling. Some scholars site various Hadiths as evidence to this, which other say are from a weak chain of narration, So, the position in the face of no evidence is one of permission. Therefore, there is no clear, authentic proof of prohibition. On the subject, Shaykh al-Islam Ibn Taymiyah has said:
---
| | | |
| --- | --- | --- |
| | "There is no clear, saheeh text to indicate that a menstruating woman is forbidden to recite Qur'an… It is known that women used to menstruate at the time of the Messenger of Allaah (peace and blessings of Allaah be upon him), and he did not forbid them to recite Qur'an, or to remember Allaah (dhikr) and offer du'aa'." | |
Qur'an, as well as any names of Allah SWT, should not be voiced in any form in a place which is considered to be unclean (such as a washroom). –Be careful of this as sometimes I have noted people to exchange "Assalamu Alaikum" in the restroom; this is one of the names of Allah SWT, therefore should not be voiced in the restroom!
Touching Qur'an
It is not permissible to touch Qur'an unless one is in a state of purity (wudoo). In a hadith narrated by 'Amr ibn Hazem (RA), the Prophet (SAW) wrote to the people of Yemen: "No one should touch the Qur'an except one who is taahir (pure)."
If one is in a state of impurity, he may move a Qur'an (by using a cloth in between, for example), but should not touch it directly.
Non-Muslims should not be permitted to touch the Qur'an (in its glorious form in Arabic language), however translations into other languages, that is permissible for non-Muslims to touch.
Sources:
http://islamqa.info/en/2564
http://islamqa.info/en/78370
http://islamqa.info/en/1690
http://islamqa.info/en/10672