| | | |
| --- | --- | --- |
| | The Prophet (SAW) said: "Take my advice with regard to women: Act kindly towards women, for they were created from a rib, and the most crooked part of a rib is its uppermost. If you attempt to straighten it; you will break it, and if you leave it alone it will remain crooked; so act kindly toward women," (Bukhari & Muslim) | |
---
Women's Rights from an Islamic Perspective Islam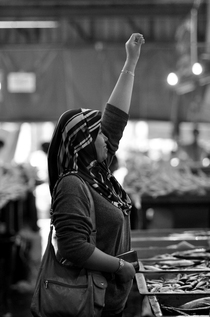 The following article written by a dear friend sheds some light on common misconceptions about Muslim women and their rights.
Written by
Eman Abbas
According to James Henslin's Mass Media in Social Life article, "Women in Iran: The Times Are Changing, Ever So Slowly," Islam denies women much of their rights. The evidence Henslin uses to support his argument appear strong when looking at them superficially. However, in this brief essay I wish to draw attention to the cultural and religious backgrounds of two of his points of supporting evidence. By doing so, I hope to provide the reader with an opportunity to fairly evaluate the relationship between Islam and women's rights.
In his article, Sociologist Henslin argues that a Muslim woman inherits only half of what her brother inherits. This would seem unfair when looking at it from a Western perspective. However, the reason behind such division of inheritance is that a Muslim man is responsible in front of both God and society for financially supporting all his family members. Moreover, under no circumstances can he deny them their rights. This is evident in the Qur'anic verse (4:34) which states: "
Men are the protectors of women and it is obligatory upon men to provide all the needs of their families
." The word "Qawwam" in this Qur'an verse does not show gender superiority but gender responsibility. On the other hand, women are not required in Islam to financially provide for their family. What a woman inherits, owns, or earns as income is to be left for her to spend as she pleases. Furthermore, Muslim women compared to western women of this time were the first women to acquire the right to own and use property as they please.
Another piece of evidence Henslin uses to support his argument, the unfairness Muslim women experience in Islam, is the stoning of women who commit adultery. However, we can not evaluate the fairness of this punishment until we are aware of who it applies to and what conditions need to be fulfilled before applying the punishment. First, it is important to know that this punishment is executed on both males and females who commit adultery. Furthermore, the execution of this punishment is very complex and must be taken into account. For someone to be accused of adultery there must be four witnesses who testify under oath that they have witnessed the act like a thread passing through a needle's eye. In other words, there is no room for speculation. In addition, anyone who gives a false testimony on this account will be subjected to 80 lashes in public. This, in the Islamic context, is considered a disgrace and proper punishment for liars.
In addition, it is important to understand that in the Muslim world, Muslims do not avoid adultery and sex before marriage due to their fear of punishment. Rather, they are socialized to appreciate family as an important institution in the society and to see the harm adultery and sex before marriage brings on both themselves and the society. One example of such harm includes a father's denial of paternity; their refusal to financially support the woman and their illegitimate children, women having to go to court to prove such parenthood, and also the emotional pain the child experiences knowing that his father did not want to acknowledge his parenthood. Like other religions, Islam only prohibits things that bring loss and damage to society. By creating such a tough punishment for adultery, Islam seeks to protect the right of the child to grow in a healthy family and the right of the woman to be appreciated and financially supported by her companion, husband.
Among the other rights Islam had granted Muslim women in the seventh century was the right to be educated. Many of the top male Muslim scholars were taught by female Muslim scholars. For example, we have Umm Salamah, wife of the Prophet (Peace be upon him). She was a great scholar. The scholar Ibn Hajar has given the names of at least 32 scholars who learnt the science of Hadith from her. Other similar examples are Aisha Bint Sa'd Ibn Abi Waqqar and Umm Ad-Darda. Furthermore, women were encouraged by the Prophet (Pbuh) and the Caliphas to participate in the medical, political and trade fields. A good example for this is Shafa Bint Adwiya. Having seen her excellent medical skills the Prophet (Pbuh) encouraged her after her conversion to Islam to continue and advance in medicine. In addition, the second Calipha, Umar Ibn Kattab had asked her to administer the market in Madinna. Later, another woman, Samira Bint Nuhayk, was appointed to oversee the market in Makka. Therefore, we see from the time of the Prophet (Pbuh) that education for females was not only allowed but encouraged.
Nowadays, it is quite evident that not all Muslim women enjoy their full rights. However, this should not be blamed on Islam. Rather, it should be blamed on the fact that - as in other religions - some Muslims are ignorant of the Islamic teachings. On the other hand, it should be noted that there are many Muslim men who truly do respect their wives and daughters, and support their educational and career goals. Not only that, but they ensure that a woman's inheritance and financial gains from her job are only dispensed for her personal use, while they are responsible to fully support her financially.
In the end, I hope by providing the cultural and religious backgrounds of two of Henslin's supportive evidence, I can help the reader make a more fair analysis of Islam's relation to women's rights. Furthermore, I hope that other Islamic legislation (Islamic Sharia) be closely viewed from both a cultural and religious perspective, rather than a western perspective. Not only that, but I also wish to emphasize the importance of using credited sources when drawing conclusions on Islamic legislation.
More Resources
More Articles
More FAQ's
---
Interesting Posts: